Overhead Installation Equipment Group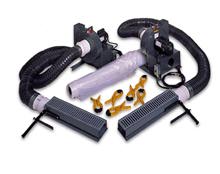 The Overhead Installation System is ready to protect your investment complete with Vacuum Motor, CSL Liner, CSL Clips and Air Evacuation Hoses. Overhead Posts are employed to evacuate air by hooking them to the top of the freight container.
Stop Your Losses... Put the Commercial Security Liner to work for you!
Protected under US Process Patent Numbers: 4,516,906; 4,671,733; 4,863,339; 5,028,197; 5,059,084, and Canadian Patent Number 1,322,385. Purchase or Lease of this Equipment does not grant or imply license on any Patent of Eagle Industries/Eagle Protective Plastics, Inc../Nolan Group, Inc..related to installation of liners.
Eagle Protective Plastics, Inc..
222 W. 6TH Street
Jeffersonville, IN 47130
(812) 282-1393
1-(800) 928-1393
Fax (812) 280-4482